AG James Urges Legislators to Prosecute Those Who Post Violent Incidents to Social Media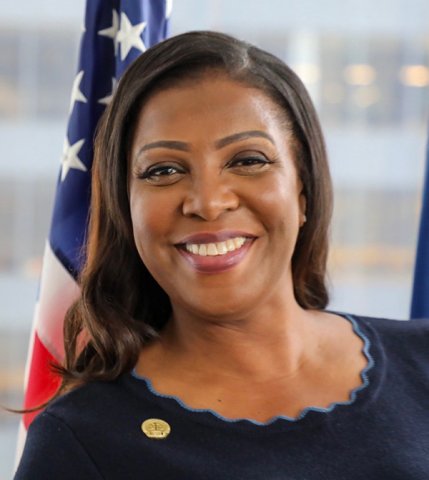 By Kelly Alvarado
Last week, New York's leaders urged the state legislature to toughen up on violence being spread on online platforms with a new report about the livestreamed mass shooting in May. 
New York Attorney General Letitia James recently released a 49-page report asking lawmakers to make it illegal to post and repost acts of violence that were recorded or live streamed. James blames social media platforms for allowing the accused Buffalo gunman, Payton Gendron, to disseminate extremist ideology and hate speech and believes these companies should be held responsible when they allow their platforms are used to publicize violence. 
According to James' report, the mass shooting inside a Tops supermarket in Buffalo on May 14 that left 10 dead and three others injured was fueled by hate that was radicalized online, the report says. "The Buffalo shooter was galvanized by his belief that others would be watching him commit violence in real-time," the report states.
"Livestreaming has become a tool of mass shooters to instantaneously publicize their crimes, further terrorizing the public and the communities targeted by the shooter," James stated in the report. 
James believes live streaming platforms 4chan and Twitch lack accountability. In order to prevent future acts of racist violence, she believes those sites should be regulated. She recommends that New York lawmakers introduce criminal penalties for creating images or videos of a murder, as well as hold those liable who share such videos. These laws would be the first of its kind in the United States if lawmakers were to take it up. 
"Online platforms need to do much more to prevent the radicalization and spread of misinformation, prevent the open planning of violence and mass shootings, limit live streaming of violent acts and limit and remove any posts which incite or solicit criminal acts," New York State Assemblyman Steven Englebright, a member of the state Assembly's Science and Technology Committee, said.
According to Pew Research, about 56 percent of Americans think major technology companies should be regulated more than they are now. 
"Congress needs to take a hard look at the federal law which generally shields Internet companies from wrong and exempts them from the journalist standards of truthfulness," Englebright continued. "The law too often has been used by the Internet companies to avoid being held liable, even when the companies breached the commonsense duty to prevent their platform from being used to spread hate and incite violence."
LI Life & Politics attempted to contact New York State Assemblyman Mike Durso for comment, but could not be reached as of present time.