Lindenhurst Man Convicted of Third DWI within 7 Years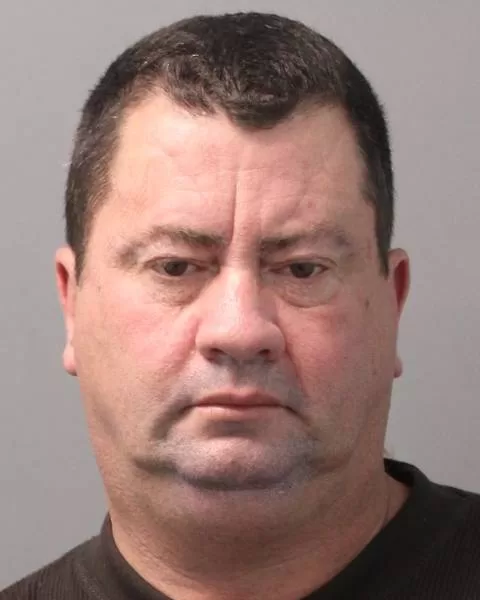 A Lindenhurst man has been convicted for driving while intoxicated — his third offense in seven years.
Robert Kloska, 54, was found guilty after a jury trial for Driving While Intoxicated after operating his vehicle while he was drunk and with a revoked license and crashing into a utility pole.
On November 17, 2021, at approximately 11:20 p.m., Kloska was driving an orange 1968 Dodge Dart near the corner of Straight Path and 35th Street in Copiague when he crashed into a utility pole.
Kloska got out of his vehicle and walked away from the scene of the accident, but was later found by law enforcement in the parking lot of a shopping center across the street from where the crash occurred.
When police spoke with Kloska, he admitted to drinking two beers, but he quickly became combative, yelled profanities and refused to submit to any standardized field sobriety tests when asked. In addition to his behavior, officers observed Kloska exhibited signs of intoxication such as bloodshot and glassy eyes, slurred speech, unsteadiness on his feet, and an odor of alcohol emanating from his breath.
Kloska was arrested and transported to the Suffolk County Police Department's First Precinct, where he refused to submit to a chemical test of his breath and continued to yell profanities and racial slurs at the officers. During the course of their investigation, the officers determined Kloska's license was revoked at the time he was driving for one prior DWI conviction, as well as for previously refusing to submit to a chemical test relating to a prior DWI arrest.
On July 28, 2023, Kloska was convicted after a jury trial heard before Acting Supreme Court Justice Richard I. Horowitz, for DWI, a Class D felony, and aggravated unlicensed operation of a motor vehicle, an unclassified misdemeanor.
This marks Kloska's third DWI conviction. On November 10, 2021, one week prior to his arrest in Suffolk County, Kloska had been convicted of DWI, a Class E felony, in Nassau County. He was sentenced to a conditional discharge and had his license revoked. He had also previously been convicted of misdemeanor DWI in Southold Town Court on January 8, 2016, and was sentenced to three years probation.
Kloska was remanded and is due back in court for sentencing on August 24, 2023. If convicted, he faces up to seven years in prison.
"This defendant's continuous and selfish disregard for the safety of other drivers and pedestrians is shocking. Unfortunately, in New York State, the current bail laws regarding drunk driving do not allow for prosecutors to ask for bail no matter how many prior DWIs a defendant has been convicted of," said Suffolk County District Attorney Ray Tierney. "Repeat drunk drivers like this defendant are a prime example of why we must reform our laws so defendants cannot continue to get released after a DWI arrest and get right back behind the wheel of a car to wreak havoc both here in Suffolk County and across the state. I thank the jury for their careful attention to this case and hope that a long prison sentence will finally deter this defendant, as well as anyone else, from getting behind the wheel while intoxicated."