Tierney Calls for End to Fentanyl-Related Deaths during Press Conference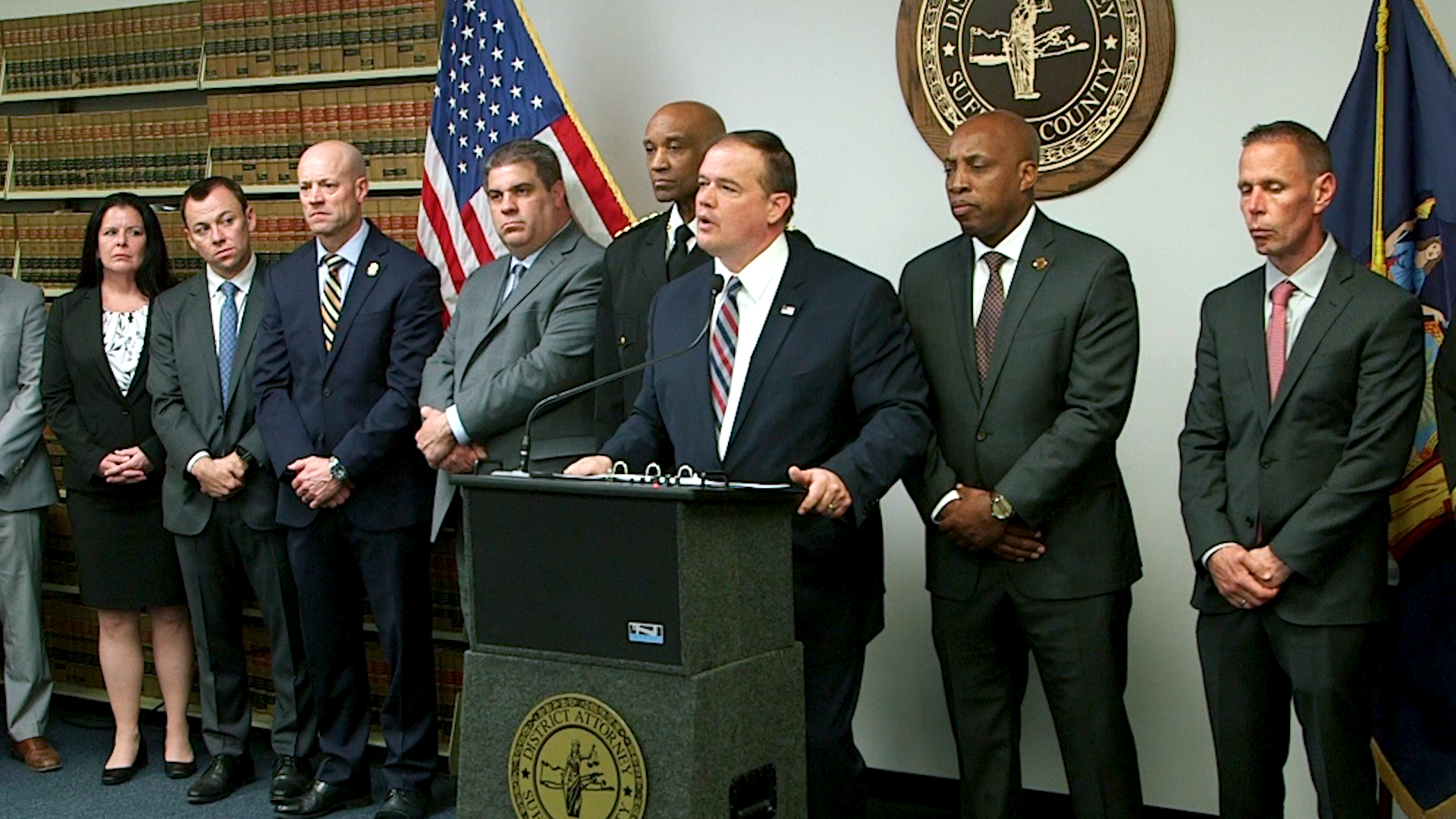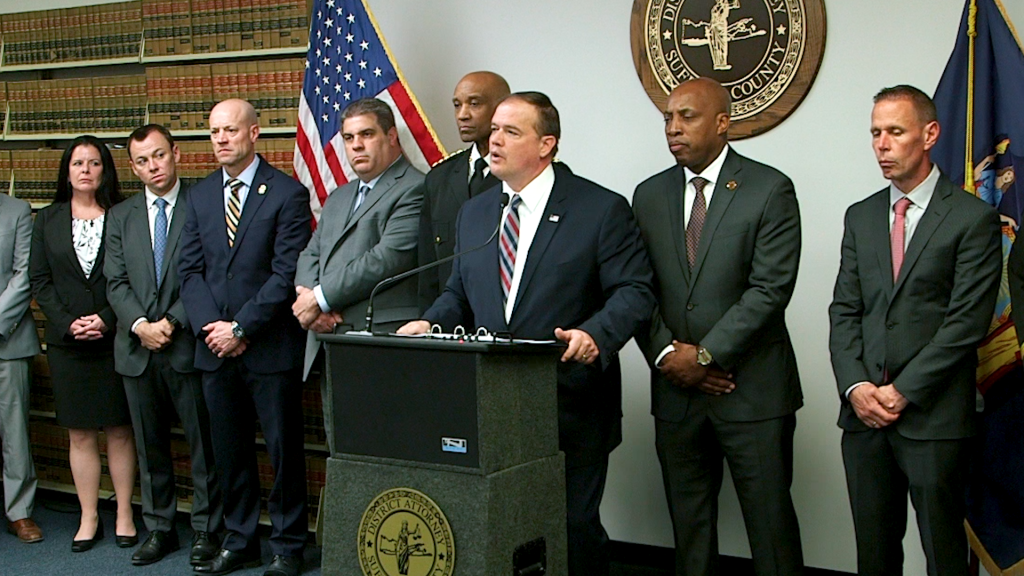 Watch the video here: https://www.youtube.com/watch?v=LV2JIhv4dag 
By Hank Russell
Suffolk County District Attorney Ray Tierney held a press conference at the Arthur Cromarty Criminal Court building in Riverhead to announce a 197-count indictment against 21 defendants for trafficking guns and drugs after a long-term investigation. During the press conference, Tierney discussed the actions his office and local law enforcement agencies are taking to combat the surge of fentanyl-related drug dealing and overdoses.
According to Tierney, over 350 young people in Suffolk died of fentanyl overdoses last year. The drug has also claimed more lives nationwide than heart disease, cancer, homicide, suicide, shootings and accidents. Further, 92% of the opioids that resulted in overdose deaths contained fentanyl. "Fentanyl is killing our young people and we need to stop it," he said. 
In discussing the indictments, Tierney said, "This was a long-term investigation, which is an example of what we promised the people of Suffolk County, which was to follow the data and use all of our law enforcement resources accordingly." 
Tierney said this was a team effort consisting of the Suffolk County Sheriff's Office, the Suffolk County Police Department, and the conversion of the DA's Heroin Task Force into the Fentanyl Task Force, which joined up with the East End Drug Task Force.
"During the investigation, we focused on all levels of fentanyl dealers, from high-level suppliers to street-level dealers and we will continue to focus on them relentlessly," Tierney said. "To those dealing these deadly drugs: we're coming for you."
"This collaborative effort led to an incredible number of illegal guns, deadly drugs and dangerous criminals being taken off our streets," said Suffolk Sheriff Errol Toulon, Jr. "Fentanyl has taken a devastating toll on our county and operations like these are a step toward keeping our residents safe."
"The success of this long-term investigation is evident with the arrests of close to two dozen people and the seizure of drugs and guns," said Suffolk County Police Commissioner Rodney Harrison. "We will continue to collaborate with our law enforcement partners to combat gun violence and ensure those fueling addiction by trafficking powerful narcotics are held accountable."
The investigation began with the East End Drug Task Force, who were looking into the "9-Trey Bloods" street gang, which was dealing fentanyl on the streets of Riverhead. Upon further investigation the 9-Trey Bloods were dealing the drug throughout Suffolk. From there, the East End Drug Task Force, the DA's Fentanyl Task Force and Gang Task Force worked with the DA's Violent Crime Enterprises Unit and Narcotics Bureau, which also worked with the SCPD's Telephone Recording And Surveillance Unit.
"The goal of this investigation is to tie drug dealing to other activities," he said. "You get the acts of violence and you get the gun possession charges, marry it with drug trafficking and get the individuals off the streets as soon as possible."
During the investigation, authorities recovered over 250 grams of fentanyl, 200 grams of cocaine, 220 grams of methamphetamines, 200 pills consisting of methamphetamine, oxycodone, diazepam, and morphine, 12 illegal firearms and nine large-capacity ammunition feeding devices. 
The investigation also consisted of undercover drug purchases and the execution of more than 190 search warrants into cell phone calls, texts and social media accounts of the dealers. This resulted in 43 charges of sales of narcotics, including fentanyl, heroin, cocaine and methamphetamines. Tierney pointed out that, despite the dangerousness of methamphetamines, "we're not able to ask or seek bail for those individuals who sell methamphetamines, and that needs to change."
"It's interesting to see a disparity between the heroin and the fentanyl," Tierney said. "It shows that fentanyl is readily available and so easily made in labs and brought into our community that it is overriding heroin … We also see the increase in deadly methamphetamines in our communities."
He said the pills were just as deadly "because the end-user doesn't have any idea what he's putting into his body. If those pills contain fentanyl, they will overdose."
Tierney said the most frustrating part is the bail reform laws, which mean he cannot seek arrests for methamphetamine and some fentanyl dealers. He said the minimum amount for which a fentanyl dealer can be charged is eight ounces, which, he said, can kill 134,000 people. Of the 21 defendants, he was only able to ask bail for eleven of them. 
"Once the individuals were arrested, predictably, they posted bond and went back to the streets. They immediately went back to where they left off, and began selling deadly fentanyl again."
Tierney later focused on the weapons used. He spoke about the August 20, 2022 shooting by Tyree Lawrence of a rival gang member in broad daylight at a busy intersection at Veterans Memorial Highway and Connetquot Avenue in Islip. He and his brother, Devon Lawrence, recognized their rival. Tyree made a U-turn and shot through his own windshield 10 times in an effort to take out their rival. They later hid the car and removed the license plates to cover up their involvement in the shooting.
"It wasn't just the rival gang members who were in danger," Tierney said. "It was also the innocent bystanders."
According to the investigation, law enforcement arrested Justin Llewellyn, who was charged for selling fentanyl to Yasmin DeLeon, a 25-year-old mother of a four-year-old child, who died of an overdose in November 2022. Tierney called her death "a tragedy." Llewellyn was arrested at the scene and remanded in custody. 
The investigation also revealed that, between December 15, 2022 and January 3, 2023, Justin Wright arranged for his half-sister, Raiven Logan, of East Stroudsburg, Pennsylvania, to buy two nine-millimeter pistols and a .38 special revolver. Logan allegedly sold the guns to Robert Stone and other individuals in Suffolk County. Law enforcement personnel followed Wright and Stone to a meeting with Logan in New York City and saw Logan pass a bag to Stone and Wright. Wright placed the bag in his car and drove Stone back to Suffolk County. When they got into Suffolk, police stopped the vehicle and recovered the guns and two large-capacity ammunition feeding devices.
The following day, police executed a search warrant on Wright's home, where they recovered three more handguns, ammunition for the guns, two additional ammunition feeding devices, methamphetamines and fentanyl. "You got guns, you got drugs, you got acts of violence all tied together," Tierney said.
Another part of the investigation revealed that Henna Harris, of Central Islip, called her drug supplier, George Rodriguez, to buy guns from one of her suppliers, Richard Owens, a 9-Trey Bloods member. A search warrant was executed for Owens' home, where law enforcement found a loaded AK-47-style assault rifle, a loaded Taurus 9 mm handgun, a loaded Taurus .38 revolver, several large-capacity magazines, matching ammunition and narcotics packaging and materials. 
"The methodology and the drugs available to drug dealers are changing, so law enforcement is changing with that," Tierney said. "But our laws are lagging behind."
On May 4, Tierney issued a statement in response to the state's recent changes to the bail laws. While he called these changes" a small step in the right direction," he said he wants to see prosecutors be allowed to ask for bail for fentanyl dealers, regardless of the amount. Currently, they can only be prosecuted if they deal enough product to kill 134,000 people, they are arrested for dealing while out on bail or if it can be proven that they actually killed someone.
"The recent changes to our bail laws enacted in the [New York] State budget do not change the list of qualifying offenses for which prosecutors are allowed to ask for bail," Tierney said. 
He said that judges should take into account the danger that a defendant poses to the community when considering bail; however, New York is the only state that does not allow judges to do this. "[A]s a whole, the changes are woefully inadequate to address the various public safety crises we are now facing."