Tierney Announces Hiring of 21 ADAs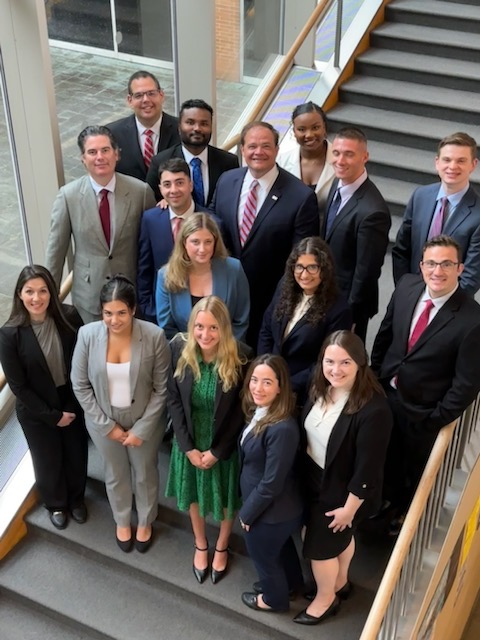 Suffolk County District Attorney Ray Tierney has hired 21 new Assistant District Attorneys (ADA) for his office.
The new hires undergo a rigorous months-long training program developed and incorporated by Tierney. The program consists of extensive on-the-job training including lectures, workshops, mentoring, and second seating senior assistants in court. The National District Attorneys Association's National Advocacy Center and the New York State District Attorneys Association's Prosecutors Training Institute also provide the ADAs with off-site training. During their first year, ADAs will rotate between the District Court Bureau, where they will learn how to handle misdemeanor cases at First District Court; the Intake and Discovery Compliance Bureau, where they will learn how to assess the sufficiency of court documents; and the East End Bureau, where they will handle misdemeanor and felony cases in the local courts of the five townships and six villages that comprise the east end of Suffolk County.
The 21 newest ADAs joining the office and the law school that they graduated from are:
Alessandro Frusco, Maurice A. Deane School of Law at Hofstra University
Billie Phillips, Touro University Jacob D. Fuchsberg Law Center
Christen Heine, Touro University Jacob D. Fuchsberg Law Center
Danielle Sciarretta, Seton Hall University School of Law
Dominique Emille, Maurice A. Deane School of Law at Hofstra University
Emma Behrens, Maurice A. Deane School of Law at Hofstra University
Evan Ryan, Maurice A. Deane School of Law at Hofstra University
Giovanna DiFilippo, Elisabeth Haub School of Law at Pace University
Jack Nicholas, Albany Law School
James Hunter, Maurice A. Deane School of Law at Hofstra University
James Stavola, Maurice A. Deane School of Law at Hofstra University
Kelsey Ferris, Maurice A. Deane School of Law at Hofstra University
Marc Rosen, City University of New York (CUNY) School of Law
Mary Fideli, Touro University Jacob D. Fuchsberg Law Center
Nancy Gallagher, Touro University Jacob D. Fuchsberg Law Center
Navina Daramdas, Maurice A. Deane School of Law at Hofstra University
Nicolette Gardini, Maurice A. Deane School of Law at Hofstra University
Rachel Kerremans, Touro University Jacob D. Fuchsberg Law Center
Raymond Leggett, Albany Law School
Ryan Ammirato, Maurice A. Deane School of Law at Hofstra University
Sean Mullen, Touro University Jacob D. Fuchsberg Law Center
"It is with great pride that I welcome the newest 21 Assistant District Attorneys to the Suffolk
County District Attorney's office," said Tierney. "These individuals are highly
qualified and are committed to seeking justice and serving the residents of Suffolk County. I have no doubt that they will uphold the values of this office and of this profession dutifully."