Empty Shabbat Table to Be Displayed on Dennison Building Lawn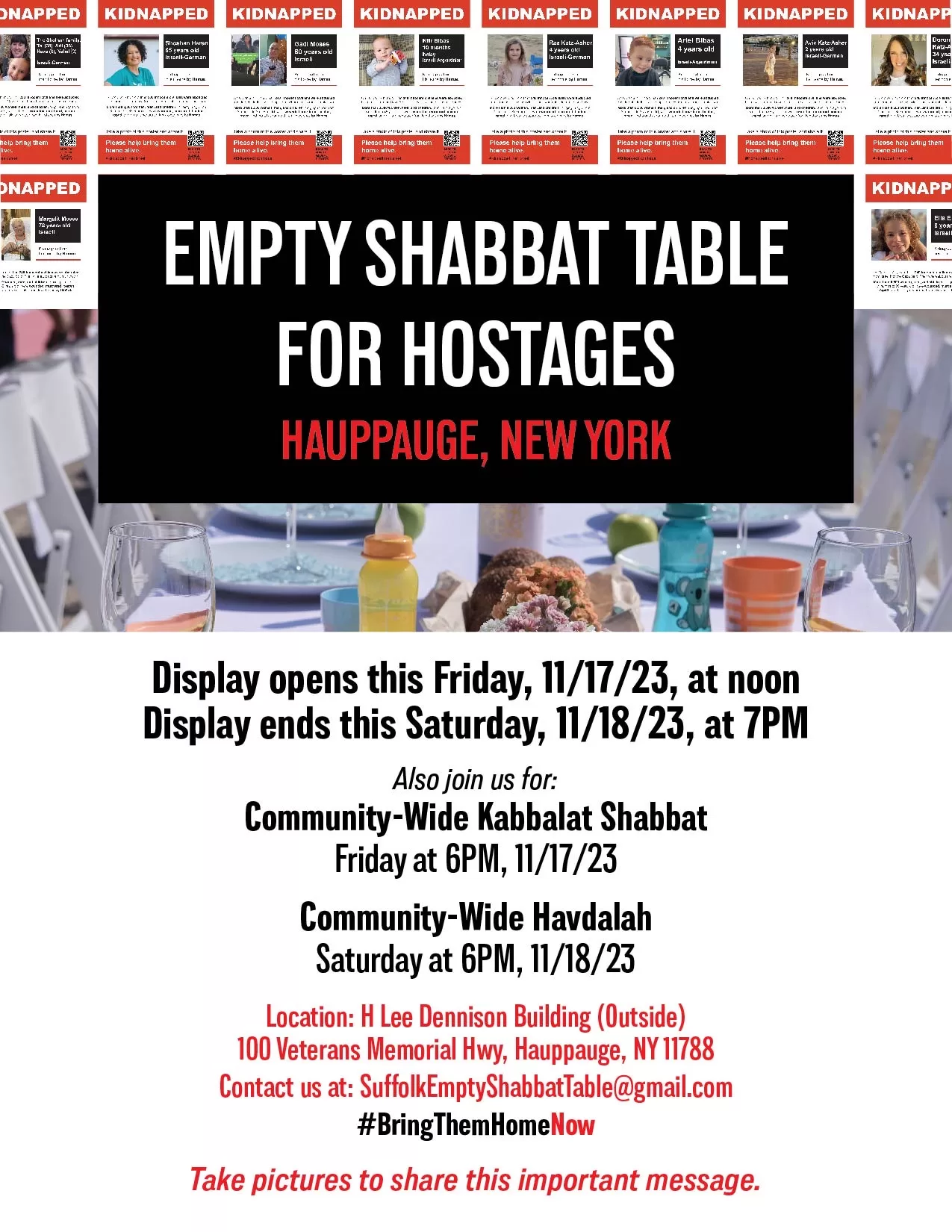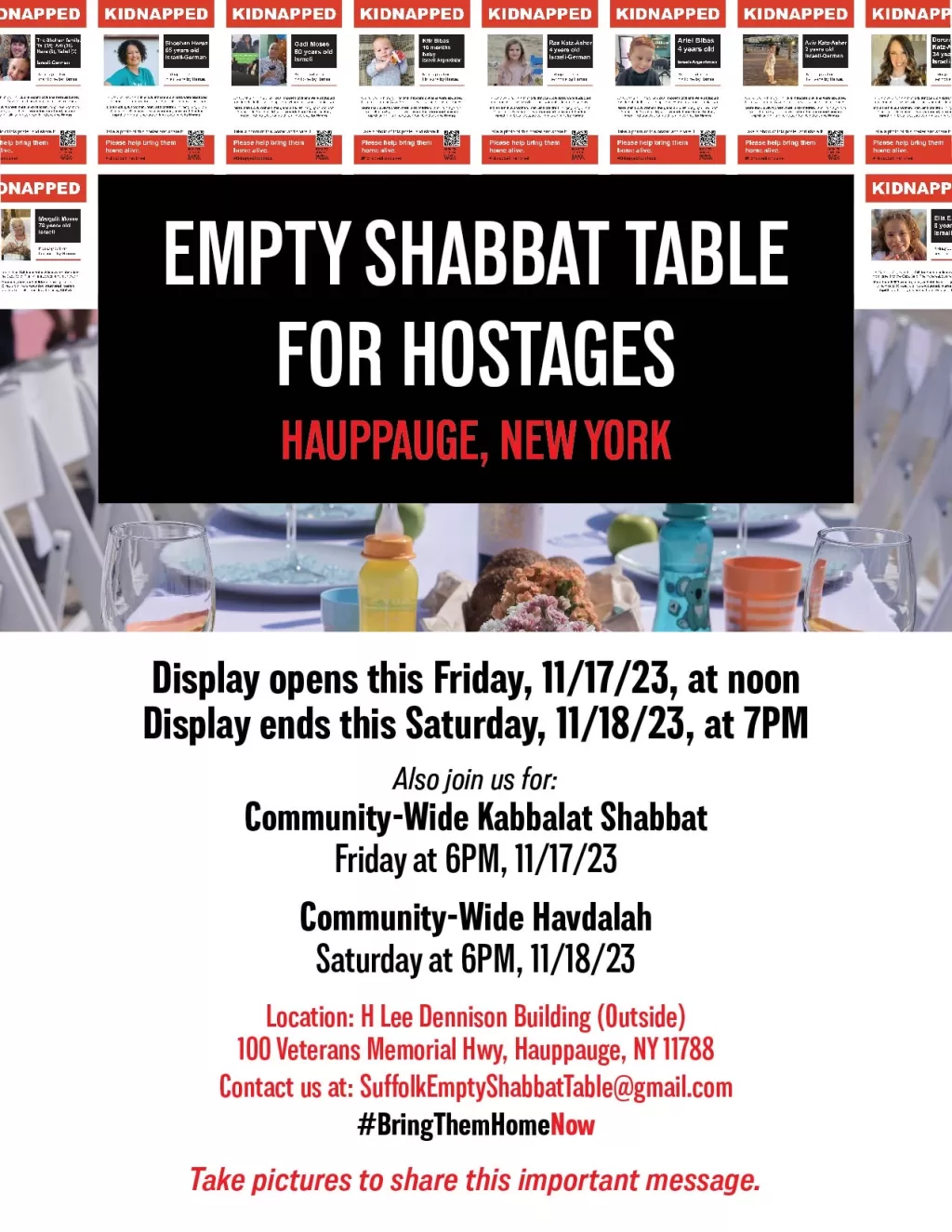 From November 17 at noon to November 18 at 7 p.m., the Empty Shabbat Table will be displayed on the lawn at the H. Lee Dennison Building, located at 1000 Veterans Memorial Highway in Hauppauge. There will also be prayer services held with the Kabbalat Shabbat on November 17 at 6 p.m. and the Havdalah on November 18 at 6 p.m.
The display recognizes the missing hostages still being held by Hamas. On October 7, 2023, more than 240 people, mostly civilians, were taken hostage in a modern-day pogrom, during Hamas's brutal attack on Israel. This Saturday, November 18, 2023, marks six weeks that they have been held in captivity.
The Empty Shabbat Table display, also referred to as the "Saddest Shabbat Table in the World," originated outside of the Tel Aviv Museum on October 20. It has been replicated numerous times worldwide since then, including in London, Rome, Times Square, the National Mall, numerous other cities across the United States, and on numerous college campuses.
The purpose of the display is to spread awareness and provide education regarding the hostage situation. We hope for international pressure to release the hostages so that they may return to their families. A Shabbat table is a festive dinner table that is set each Friday night in Jewish homes. The family welcomes the Sabbath holiday with a meal and celebration. Shabbat starts at sundown every Friday night and ends at sunset every Saturday night. This empty table shows that 239 people are still missing from their families and they cannot enjoy the Sabbath while they are held in captivity.
Each chair has a name and picture of each hostage in symbolic hope for their safe return.
The hostages range in age from nine-month-old Kfir Bibas (now 10 months old), who was taken with his four-year old brother Ariel, to the oldest at 87 years old. The hostages are citizens from dozens of countries, including the United States.
While Israel has had Prisoners of War held in the past, these were soldiers. Unique to October 7, most of the hostages who were abducted and are currently being held as prisoners, are civilians.
This display was made possible, thanks to the Suffolk Police Asian Jade Society, the Suffolk Jewish Advisory Board, Penn Design Group, Helfner Dental Associates, The Matos Family, Five Boro Flag, Banner & Sign, Inc., Driftwood Day Camp, Lessing's Hospitality Group, All American Van Lines Inc., Acer's Florist and Garden Center, Dix Hills Jewish Center, The Chai Center of Dix Hills, Temple Beth Chai of Hauppauge, Mid-Island Party Plus, Preferred Events LI, Inc., and Little Tommy's Party Rentals, Inc.
Volunteers are needed to help set up, break down, and explain the display to the public. Those who wish to volunteer may contact Rona Kugler-Bode at SuffolkEmptyShabbatTable@gmail.com.