Eight Projects for Downtown Riverhead to be Funded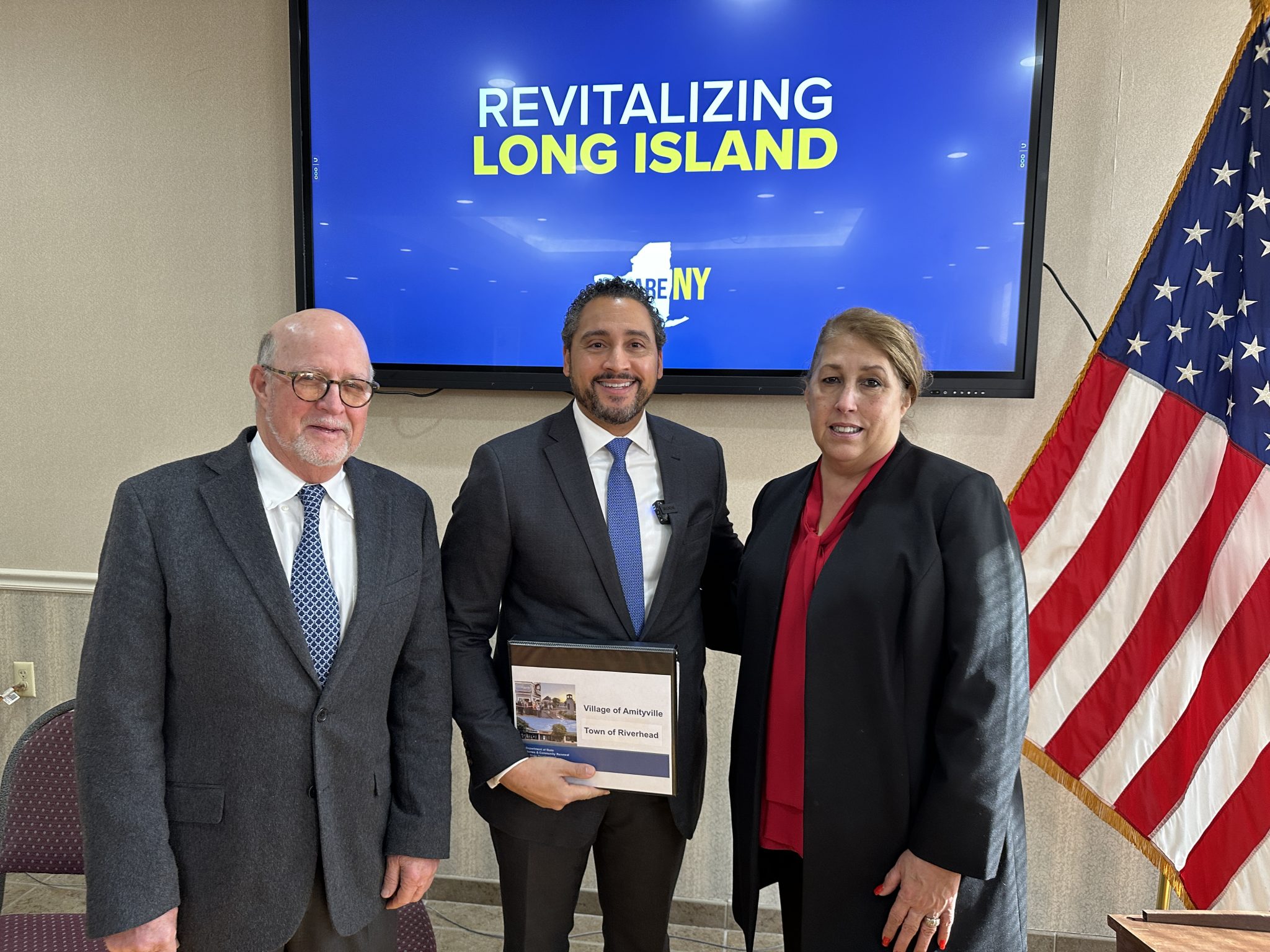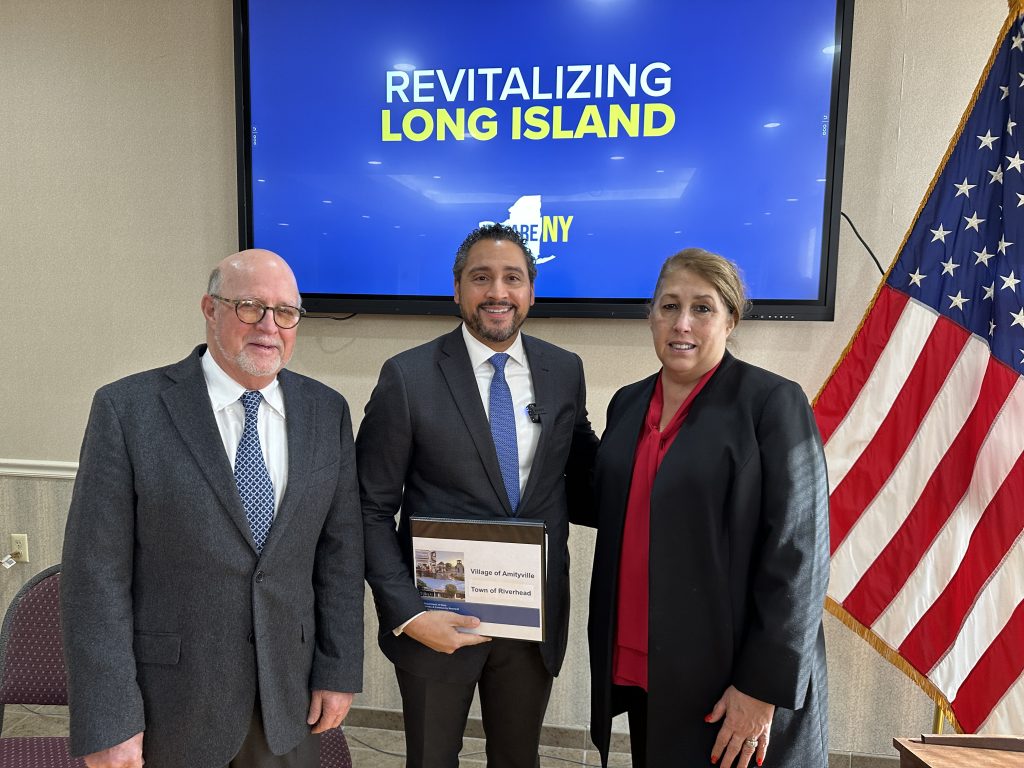 Money Came from $10 Million DRI Grant Last Year
Eight projects in the town of Riverhead will be funded, thanks to a $10 million New York State Downtown Revitalization Initiative (DRI) grant that was awarded to the town late last year. 
After Riverhead won the grant to further its concerted downtown revitalization efforts, "a local planning committee was formed to provide advisory guidance on how to move potential projects forward in the most efficient and effective manner possible," Community Development Director Dawn Thomas said. "Now that key projects have been approved for funding by the state, we believe that downtown Riverhead will fully realize its full economic development potential." 
Town Supervisor Yvette Aguiar thanked Thomas and her team, who "diligently worked on furthering our vision to revitalize downtown Riverhead and create a new Town Square. The vision has finally become a reality, which is evident here today."
Governor Kathy Hochul added, "We are committed to revitalizing Long Island, and these investments will create a more walkable, vibrant downtown that will benefit generations of New Yorkers who call Riverhead home. These projects will enhance public spaces and create more affordable housing opportunities, and my administration will continue to prioritize transformational projects that will strengthen communities across New York."
Below is a list of the projects that were funded, how much DRI money each project received and what the project will entail: 
Creating a New Town Square — DRI Award: $3,240,000


Build a new public plaza and gathering space that can facilitate year-round activation and provide accessible pedestrian connections and vistas from Main Street to the riverfront. 

Enhancing Peconic Park with an Adaptive Playground — DRI Award: $245,000


Construct a playground and park space with a water feature and educational activities that relate to the waterfront location and utilize green infrastructure and design to aid in downtown resiliency efforts.

Enhancing the Pedestrian Realm Along Main Street — DRI Award: $750,000


Install traffic calming design elements to improve pedestrian safety along Main Street at two prominent intersections, including curb bump-outs, raised crosswalks and pedestrian signals. Install new street trees and landscaping.

Building a New Town Rowing Facility — DRI Award: $250,000


Construct a floating ADA-accessible community boat launch facility in the Peconic River with space to maneuver and launch crew boats and, if feasible, racks to store the crew boats.

Implementing a Public Arts Program — DRI Award: $250,000


Engage local artists to build permanent public artwork in downtown Riverhead, building on the success of existing community artworks.

Expanding the Suffolk Theater — DRI Award: $2,000,000


Expand an existing historic theater stage and add a green room and back-of-house functions, all as a component of a larger development with residential units that include workforce housing.

Building a New Entrance and Welcome Center for the Library — DRI Award: $215,000


Provide a new accessible entrance and pedestrian path with signage, lighting and landscaping and include interior space for a self-serving visitor center, providing promotional materials for downtown businesses and events.

Creating a Mixed-Use Development at Griffing Avenue — DRI Award: $2,750,000


Construct a new mixed-use development consisting of workforce housing and retail/commercial space lining a public parking structure.
Prior to receiving the DRI award, the Town of Riverhead purchased three buildings during the COVID-19 pandemic, two of which have been demolished to make way for the new Town Square. "Our Town proved we have what it takes, that we were shovel ready and all the proper planning was in place for us to move forward in a smart manner for the betterment of all our residents and visitors from the region," Aguiar said.
David Kapell, former mayor of Greenport and co-chair of the DRI Local Planning Committee, said, "I commend Governor Hochul, along with Riverhead Supervisor Aguiar and the Town Board, for the collaboration that has culminated in today's announcement. As the seat of Suffolk County government, Riverhead plays an important role in Long Island's history, and in its future. The projects announced today will prove critical to revitalizing downtown in a way that responds to extensive public outreach and planning, and to restoring it to its rightful place at the heart of life on Long Island. I am excited to see what comes next for downtown Riverhead." 
Aguiar thanked Kapell for his support of Riverhead and for "demonstrating how professional partnerships in government can work effectively in a unified and steadfast manner."
Some of the local state legislators were pleased to see these projects moving forward. "This critical grant funding will boost economic development throughout the region, while fostering a greater sense of community with the riverfront as a focus," said New York State Senator Anthony Palumbo (R-Riverhead).
Assemblywoman Jodi Giglio (R-Riverhead) added, "Riverhead's application was truly outstanding and fully deserved to be selected. I am confident that downtown Riverhead is fully ready for transformative economic redevelopment. I am committed to helping Riverhead accomplish our mutual downtown revitalization goals any way I can."