PSEG Long Island Employees Donate $1,000 to Smithtown American Legion Post 833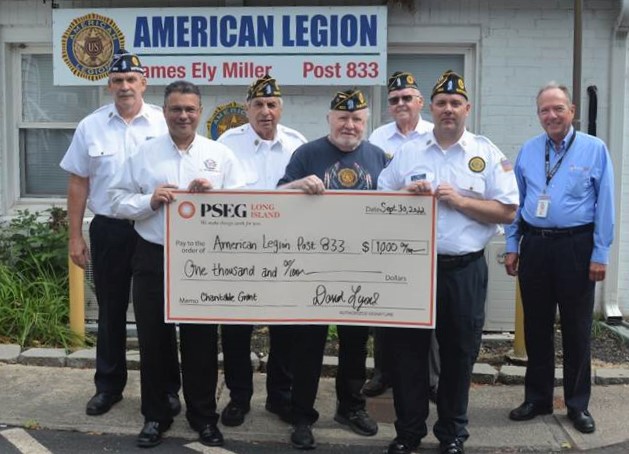 PSEG Long Island employees recently made a $1,000 donation to American Legion Post 833 in Smithtown to help fund a roof project for the post's 100-year-old building. 
"PSEG Long Island has a longstanding commitment to community service and we are proud to support veteran organizations like American Legion Post 833," said Enrique Morales, a PSEG Long Island employee who is a veteran and president of the employee business resource group that provided the financial gift. "We appreciate everything the American Legion does for the community and we are glad to support this post's programs and services."
"I want to say 'thank you' to PSEG Long Island's Veterans Employee Business Resource Group for its generous donation for our roof fundraiser," said Commander Bill Coderre of American Legion James Ely Miller Post 833. "The new roof is part of a rehabilitation project, which includes energy efficiency upgrades, to help restore and maintain our 100-year-old building so veterans, past, present and future, have a place to come together to share experiences and have access to support and resources."
In addition to the grant, the post received a rebate of nearly $4,000 from PSEG Long Island for replacing inefficient lighting with energy and money-saving LED lighting throughout the building. The project to replace 19 lights will save an average of 24,000 kilowatts per hour in energy each year.