Drucker Celebrates Syosset Volunteer Fire Department Apparatus Dedication and Wet Down Ceremony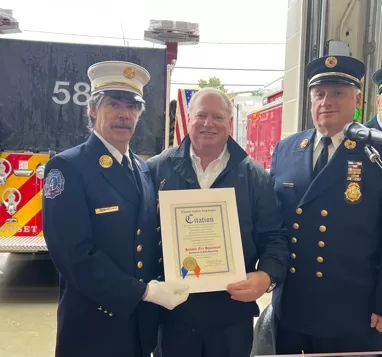 Nassau County Legislator Arnold W. Drucker (D-Plainview) joined with the Syosset Volunteer Fire Department, local first responders, clergy, residents, and his colleagues in government as they celebrated the dedication and ceremonial wet down of six firefighting apparatus on September 30.
The equipment was dedicated to the memory Ex-Captains Kenny Stephens and Richard Meinhardt, Honorary Chief James Thomas, and fire department members Stanley Michalowski, Matthew Harford, Stan Carndinali, John Cardinali, John Lusardi, Antonio Balocco, and John Delmaestro from the Syosset Volunteer Fire Department, East Meadow Engine Company 1, Mineola Engine Company 3, and Bethpage Fire Department Engine Company 5. 
Following the ceremony, Drucker presented Chief Edward Judge and First Assistant Chief Robert Leonard with a Nassau County Legislature Citation to commemorate this milestone and honor the legacy and memory of the fallen firefighters being memorialized.
"These state-of-the-art pieces of rescue equipment will provide our firefighters with the crucial tools that they need to keep them as safe as possible as they serve and protect the residents of Nassau County," Drucker said. "It is an honor to recognize their efforts and memorialize a group of outstanding first responders whose dedication and commitment never wavered in the face of danger."