Lake Grove Woman Arrested for Stealing Jewelry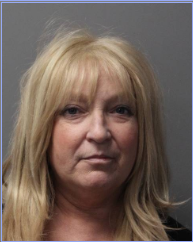 Suffolk County police have arrested a Lake Grove woman for stealing from her clients at a jewelry store.
Between September 2019 and December 2022, Laura Bee, 59, was an employee at Ever Love Jewelers, located at 374 New York Avenue in Huntington. Following an investigation, it was determined that she had stolen jewelry valued at more than $125,000 from seven clients during that timespan. Bee would knowingly issue checks with insufficient funds to cover the transaction and then keep the jewelry. She would also swap real diamonds for fakes, and use inferior quality diamonds but still charge full price.
Bee was arrested at her home located at 1 Half Hollow Court in Lake Grove on July 25 at 3:37 p.m. She has been charged with seven counts of third-degree grand larceny and six counts of issuing a bad check. She was held overnight at the Fourth Precinct, and scheduled to appear at First District Court in Central Islip on July 26.
Anyone with information, or who believes they may have been a victim, is asked to contact Second Squad detectives at 631-854-8252.