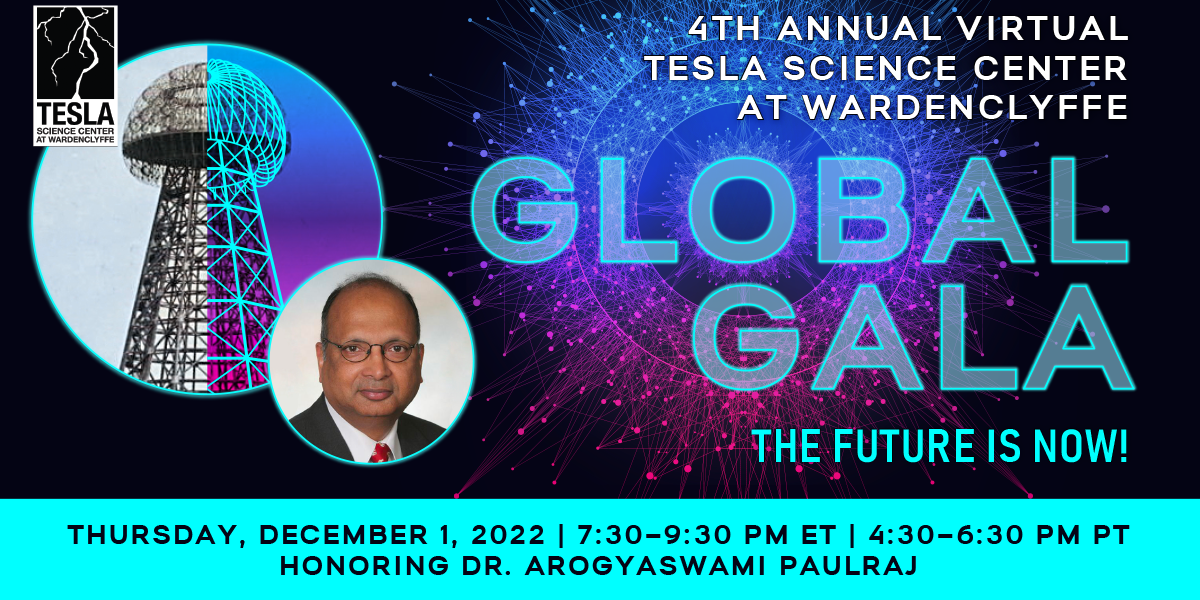 Tesla Science Center at Wardenclyffe's 4th Annual Global Gala
About Us
Welcome to a virtual Gala inspired by two wireless communications innovators: Nikola Tesla and Dr. Arogyaswami Paulraj, our 2022 Honoree. 
Wireless communications technology transformed the world, from Nikola Tesla's development of radio to Dr. Arogyaswami Paulraj's invention of MIMO wireless technology. Every year TSCW honors innovators of today who reflect Tesla's bold spirit of inventiveness and dedication to advancing technology for the betterment of humankind. At our 2022 Gala, we are privileged to honor Dr. Paulraj for his contributions with a virtual program that highlights the power of high-speed wireless internet to improve lives and help humanity connect, work, learn, and thrive.
Honoring two innovators in wireless communications with a virtual Gala that showcases the technology they revolutionized.  We invite you to log in for a unique virtual program that features interactive entertainment, The Future Is Now Auction, and connective networking opportunities.
Tesla Science Center at Wardenclyffe
Our mission is to develop the site of Nikola Tesla's last remaining laboratory into a transformative global science center that embraces his bold spirit of invention, provides innovative learning experiences, fosters the advancement of new technologies, and preserves his legacy in the Tesla Museum.
We envision a world where people appreciate Nikola Tesla's contributions, are inspired by his scientific audacity, and engage in the future betterment of humanity.
Tesla Science Center at Wardenclyffe is a 501c3 not-for-profit (Tax ID: 11-3327144) organization incorporated by the State of New York.